Chris Gerardo – Father of the United States Bocce Federation

May 1, 1923 – March 5, 2003
Chris Gerardo began the USBF movement in the United States.
He contributions will live on forever and we have all lost a dear friend.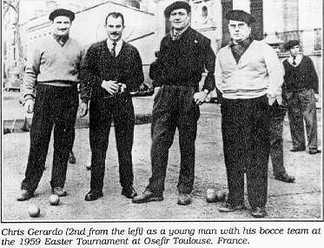 Bocce was Chris Gerardo's life and part of his family. The United States Bocce Federation is one of his children. He was totally committed to both the sport and the organization. He lived and breathed and loved the game. He was the founder of the United States Bocce Federation. He introduced international rules, brought pockets of players in different parts of the country together and introduced the United States to international competition.
Chris was born May 1, 1923 in a small town in northern Italy, Lutzano Di Fontanelle in the Provence of Treviso, about 30 miles from Venice. July 19, 1947 he married his wife and life long partner in the playing and promotion of bocce, Elena. They have three children, Paulette, Ivan, and Patty.
Eight days after his wedding he left for France with experience in fashion designing and tailoring. Through relations he settled in Toulouse, France where he set up his business in his home. Meanwhile his first child Paulette was born in Italy.
Approximately a year later Elena and Paulette joined him in France where they lived for 13 years and where his second child, Ivan was born.
As a young man in Italy, Chris played bocce, but it wasn't until he moved to France that he really got involved and hooked on the sport. There he played every weekend at the Club Mariel without fail for those 13 years. Practice was every Saturday and tournaments were on Sunday. He established his own, quite successful, team and in 1955 became the head organizer of bocce at the Club Mariel. He spent untold hours learning techniques, rules and regulations and anything else that had to do with bocce.
Chris, Elena, Paulette and Ivan arrived in the United States June 6, 1960 and went directly to Pueblo, Colorado where Chris' sister, who had sponsored the family, lived. Three and a half years later the family, which now also included a third child, Patty, moved to Denver where Chris opened his tailor shop. For about 15 years Chris played bocce off and on but it wasn't until 1976, when he decided to build four bocce courts in the back of his tailor shop, that the intensity and devotion began again. He started inviting friends over to play. It was that same year that he traveled to Torino, Italy to meet with the President of the International Federation, Dr. Luigi Sambuelli to find out what would be necessary to establish a recognized Federation in the United States. He returned with the necessary information and with the help of an attorney, George Ashen, he legally established the Federation, a 19 member Board of Directors, and set out to expand the sport. Chris was the Federation's first President and remained in that position until 1985. That initial founding Board of Directors included Vice President Frank Busnardo, Secretary Jim Binford, Vice Secretary Candy Pomarico, Treasurer Paulette Vogel his now married eldest daughter), Vice Treasurer Sam Di Camillo, and supporting Board members, Joseph Ascuitto, Gino Busnardo, Pasquale Capra, Dorio Del Basso, Claude Dussardier, his wife Elena Gerardo, Carmen Lonordo, Frank Olivetti, Alessandro Ottoborgo, Bob Piz, Mary Rome, Ezio Sualdi and John Vitale. The plaque recognizing these original founders also includes as honorary Presidents the then Governor Lamm and Mayor McNichols.
Chris then embarked on the huge task of finding bocce playing enclaves throughout the country. He used his connections with the Italian-American Clubs to locate players and find tournaments and then traveled to those clubs to introduce himself, the Federation and to meet people.
Around this same time, Mario Simonetti of Stockton, California was being encouraged by representatives of Martini & Rossi who hosted an annual tournament in the bay area to investigate bocce competitions in Italy. Mario, who played much bocce in Italy prior to coming to the United States, wrote to the International Federation and Dr. Sambuelli who by return mail with a copy to Chris put the two men in touch with each other. Chris attended the January 1978 Martini & Rossi tournament at the Ligure Club in Oakland and as a result selected Mario, along with Lugi Pratto and John Muzio of Stockton, California and Aldo and Juanito Cuneo and Roy Bellefronte of the Monte Cristo Club in San Francisco to be the first team from the United States to participate in the International Championships which were held in Macon, France in 1978.
Chris continued to pursue broadening the scope of the Federation. There was the first national convention in March of 1978. He traveled to Las Vegas that year where he met John Bernazani of Las Vegas Club, NV and Gino Bartoletti of Phoenix, Arizona who became life long friends and supporters. Chris was successful in getting the Las Vegas Club host the first National Championship Tournament in 1979, and so it all began.
Up to then and since, Chris has spent immeasurable amounts of time and money unselfishly for promoting the sport of bocce within the United States and being a liaison for the United States Bocce Federation in International Bocce circles. His relentless efforts are truly visible now with four active sectors in the Country holding tournaments, creating leagues, sharing experiences, techniques, rules, and friendships. Since the late 1970's, a National Championship has been held every year and a team has represented the United States in International Competition. One by one his dreams and goals are being fulfilled. The Federation is affiliated with the Amateur Athletic Union, the sport of Bocce was accepted by the International Olympic Committee and the United States hosted the World Championships in 1996 in Highwood, IL. As for future dreams, he still waits to see the World Championships hosted in the United States (scheduled for 1992), to see the youth of this country become involved and trained to become successful players, and to see the U.S. team capture the gold at the Olympics.
All who love the sport of bocce owe Chris, his wife and family a deep debt of gratitude for their tireless devotion in bringing us to where we are, today.
Editors note: Sincere appreciation to Paulette Vogel for her assistance in preparing this biography.