on Wednesday, October 17, 2018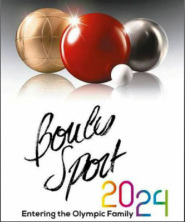 The closest bocce ever came to being in the Olympics was in the 1900 Paris Games when "Volo" was played as an exhibition sport. There have been a number of efforts since then to get bocce into the Olympics.
There has begun a new concerted effort to get bocce back into the Olympics for the 2024 games. The three disciplines that will hopefully be included are Petanque, a French variation of bocce, Boule Lyonnaise, or what we call Volo, and Raffa.  To learn more about this effort, and to become a supporter of the effort, click on the Boules Sport logo to the left.